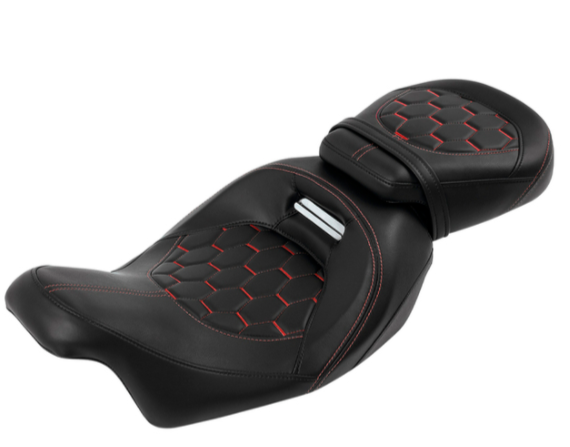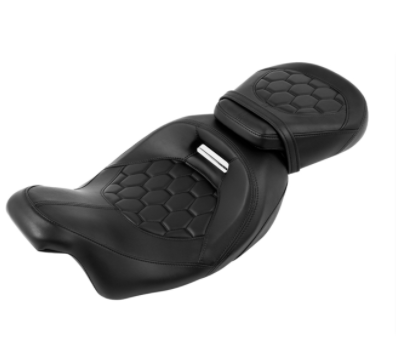 Rubicon Microfiber 2 Up Leather Seat
$399.00
Rubicon Microfiber 2 Up Passenger Leather Seat with amazing comfort for long or short term rides.   Precision-cut, hand-stitched seat covers are made from the finest materials and can't be massed produced.  Only an experienced stitcher can make a perfect seat. Made from high quality microfiber leather.  It offers the appearance of leather but the durability and resistance to elements that exceed OEM Standards.  All seams are reinforced for strength and weather resistance.  Hemmed bottom edges hand-riveted to baseplates for strength.  Available in a wide variety of vinyl textures and stitch patterns. With a 15.75" front width that sits you in the perfect riding position with a similar reach to the controls compared to stock, this two-piece seat mounts just like stock and is available with or without a fully adjustable and easily removable built-in driver backrest. Fits: 09- Up FL Touring CVO  Front width 15.75" Rear Width 11"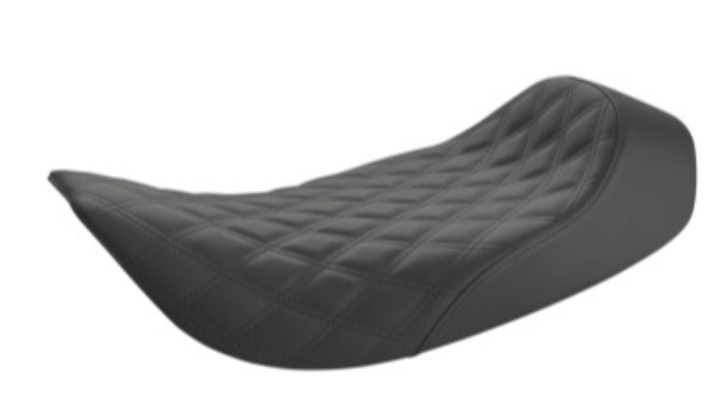 Renegade Lattice Stitch Solo Seat
$338.00
$375.00
GelCore™ technology reduces direct impact forces by up to 92% and vibration transmitted to your body by up to 50% Combines a GelCore™ interior and ProFoam Channel design for unparalleled comfort and style Includes all necessary mounting hardware and instructions for easy installation Made in the U.S.A.